6th Form at Trinity
Trinity Sixth Form Academy is unashamedly academic and offers a broad curriculum of A-Levels and L3 BTEC qualifications. These courses are designed to support the young people from our community in securing the best possible outcomes, opening a lifetime of future opportunities with leading universities and employers.
99.7% Pass Rate!
Trinity Sixth Form Academy lead the Calderdale region for progress, with a 99.7% pass rate in 2019 and every student secures the best possible destinations for both degree apprenticeships and university places including Oxbridge. However, they are about so much more than academic success. They pride themselves on their enrichment offer and approaches to mental health, the pastoral support they provide and the relationships that they secure as a 6th Form community.
The State-of-the-Art Building Is Centrally Located and Within Walking Distance to Great Transport Links!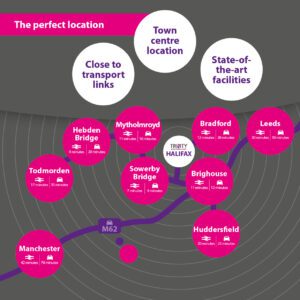 Message From the Principal
"At Trinity Sixth Form Academy we believe passionately in the importance of the school as an institution that contributes to personal development, human flourishing and the creation of the good society. We therefore want our students to have access to the highest levels of subject knowledge, to be professional in everything they do and to strive to be virtuous in their relations with others. These three things are what we consider to be the constitutive features of an outstanding education that develops 'life ready learners'."
Michael Fitzsimons
Principal, Sixth Form
Click the button below to find out more information on starting your Post-16 journey with Trinity Sixth Form Academy.
For those who choose not to attend our Trust's sixth form, students are supported and given every opportunity to explore other routes they may wish to take.